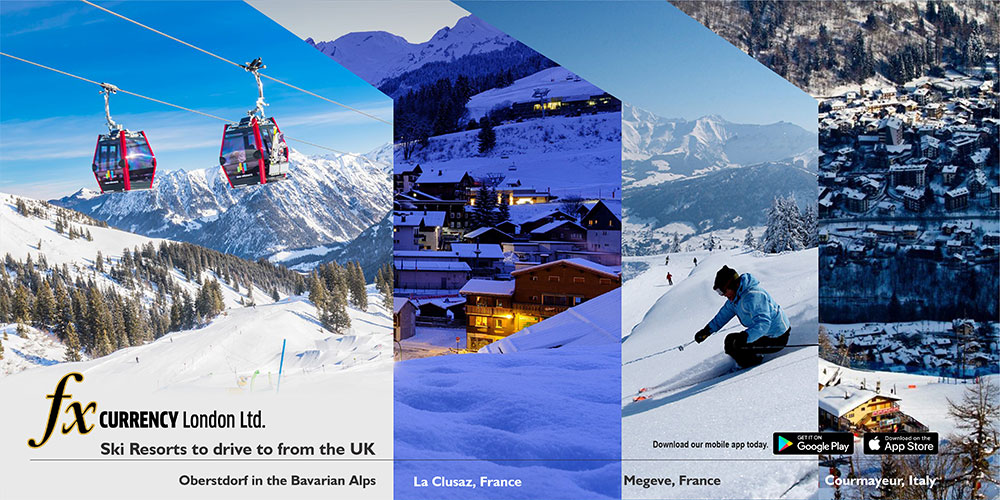 Ski Resorts to drive to from the UK
Every winter, hundreds of ski enthusiasts drive visit the Alps for their holiday break. With the ski season being limited to a small part of the year, people are always eager to hit the slopes as soon as possible.
Of note, there is an increasing number of people choosing to drive to their favourite ski resort while using car ferry services to safely cross the channel. There are many advantages of taking to the road.
Driving is obviously cost effective and provides the ease of transporting skis and other paraphernalia without having to worry about the weight of your baggage. It also allows flexibility on the trip. With COVID being unpredictable, driving affords you the luxury of avoiding crowds and close proximity to the public at airports and shared transfers.
While driving yourself to a ski resort has multiple advantages, one must take certain steps to ensure the trip is safe and that you do not get stuck on the road. The most important thing to do is to be well equipped for the road. The must have equipment include:
Snow chains
Shovel
Tow rope
Spare anti-freeze
A torch
A first aid kit
Below is a list of a ski resorts that are a wonderful experience to drive to from London. Your journey begins with either a Eurotunnel or ferry to Calais.
Oberstdorf in the Bavarian Alps:
One of Germany's most popular ski areas, Oberstdorf in the Bavarian Alps is the closest ski resort to drive to from the UK. It offers 124km of the Oberstdorf Kleinwalsertal ski area. It also includes Germany's longest downhill run from the Nebelhorn lift (7.5km). The resort is known for hosting the first leg of the famous Four Hills ski jumping tournament.
La Clusaz, France:
With an access to over 250 km of ski slopes, La Clusaz is a part of the Massif des Aravis ski area. It is renowned for its freestyle terrain and is very popular with snowboarders. It comprises of four sectors:
Balme sector
Aiguille sector
Etale sector
Beauregard sector
Megeve, France:
Megeve in South-East France is known for its peaceful pistes which are not as crowded as the others. Though this resort is favoured by the affluent and has its own airport, a holiday is not prohibitively expensive. Apart from school holidays and weekends when there can be an influx of visitors, this resort is relatively quiet. One can have stunning view of Mount Blanc from here.
Courmayeur, Italy:
An Alpine resort at the foot of Mount Blanc in Northwest Italy, Courmayeur is known for its SkyWay Monte Blanco Cable Car offering views of peaks such as the Matterhorn. The ski resort is in the famed Aosta valley and its proximity to Chamonix will make you to come back again and again.
At FX Currency London Ltd, we offer you precisely tailored exchange rates which stand tall in the competitive market. We also offer advice on how much foreign currency one needs to carry on a vacation depending on the destination. We are registered with HMRC and other regulatory bodies assuring our clients of being in safe hands.
How to Reach Us:
Address: 98 Fleet Street EC4Y 1DE
Nearest Bus Station: Ludgate Circus. Bus Routes: 168, 253, 27, 274, 29, 31, 88
Nearest Overground Train Station: Thameslink
Nearest Tube Station: Northern
Plan your Travel: https://tfl.gov.uk/
Visiting British Museum and looking to exchange currency?
Visit us @ 98 Fleet Street EC4Y 1DE
Boarding Tube Station: South Kensington Station
Boarding Bus Stop: South Kensington Station
Visiting London Eye and looking to exchange currency?
Visit us @ 98 Fleet Street EC4Y 1DE
Boarding Tube Station: Embankment
Boarding Bus Stop: County Hall
Visiting St Paul's Cathedral and looking to exchange currency?
Visit us @ 98 Fleet Street EC4Y 1DE
Reach us in just 5 minutes by walk.