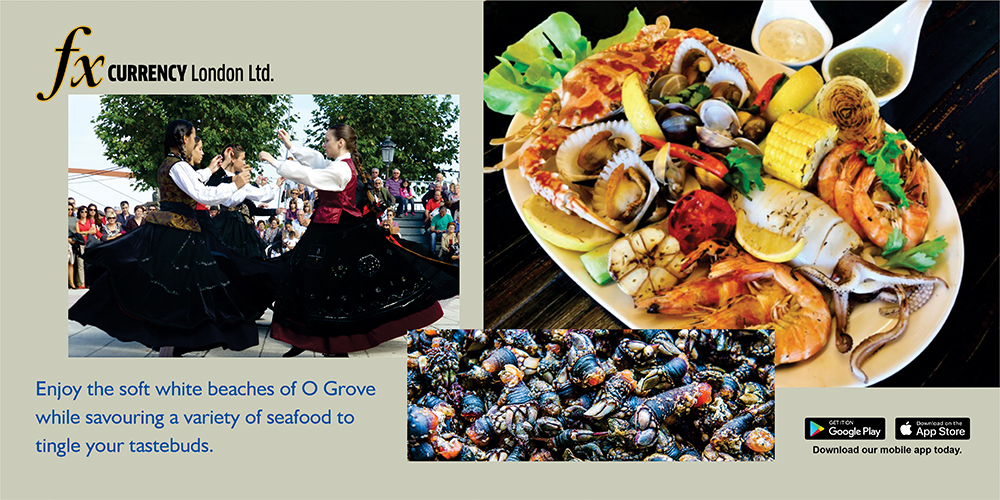 Fiesta del Marisco – The festival of seafood in Spain
The municipality of O Grove on the coast of Galicia in Spain has celebrated Fiesta del Marisco (which translated to English, reads Seafood festival) since 1963. This is a cultural-gastronomic festival that is held annually during the month of October. This event is attended by over 200,000 visitors annually.
The highlight of this festival (as the name suggests) is seafood. Fish and shellfish prepared and served by local people go on sale at special (discounted) prices. One cannot but mention the two stand-out specialties of the region, mussels and turbot. This festival has given the town of O Grove the nickname "Seafood Paradise".
Apart from seafood, the festival also hosts a multitude of folkloric, cultural, and educational activities in addition to the dance and music programs. One can also discover activities specially designed for children, sporting events, musical concerts as well as scientific-commercial seminars and conferences.
International Sculpture Symposium is also held during this fest which is a prestigious event and attracts sculptors from across the globe.
Fishery is a major source of revenue for the town. This festival aims at promoting fishery.
The places of interest in O Grove include
Playa A Lanzada, which is considered to be among the best beaches on the European side of the Atlantic. It is renowned for its fine white sand and clear waters. Additional attractions are the church of A Lanzada known for the statue of a Virgin closely linked to fertility rituals and a necropolis dated back to the 4th century BCE.
Playa Area das Pipas, which is a small beach with white sands. Its popularity include water having moderate temperatures despite a windy atmosphere and its accessibility for people with reduced mobility giving it a touch of paradise.
Aldea De Os Grobits, which is a small village that used to originally be a children's playground recreating Hobbiton. Known for its half buried miniature houses covered by nature, it also has swings, see-saws, a magic well and net cradles among many other attractive woodcrafted articles to entertain the junior members of your family. There are no entry fees to Hobbiton.
Punta Moreiras, which is a walk and sculpture complex on peninsular O Grove. It is an ancient fishing village which has been rehabilitated as a museum where one can see various ethnographic elements converted into stone in the form of sculptures with representations of a lighthouse, a mermaid, fishermen and many more posted on the sides of walks.
This spring break mingle with cheerful fishermen in the pleasant village of O Grove, enjoy the soft sand beaches and clean waters of Spain while savouring sinfully fresh shellfish while paying homage to the Gods of the sea.
At FX Currency London Ltd, we offer you precisely tailored exchange rates which stand tall in the competitive market. We also offer advice on how much foreign currency one needs to carry on a vacation depending on the destination. We are registered with HMRC and other regulatory bodies assuring our clients of being in safe hands.