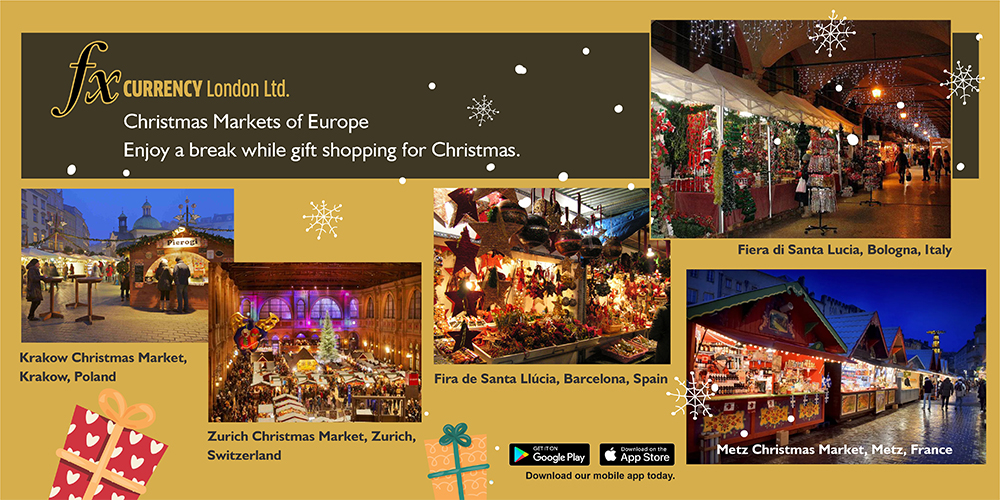 Christmas Markets of Europe
Christmas shopping is an annual event in the majority of the western countries. It is something that people both look forward to and end up getting stressed out about! The joy part is in the holidays, celebrations and getting gifts and the stress-out part is having to select the right gift for each of your loved ones and making sure you have not missed out anyone on your Christmas gifting list. You obviously want your gift to be meaningful and something the recipient will treasure for a long time to come.
Things people love about Christmas season and shopping are:
The Christmassy atmosphere
Enchanting window displays
The fun of picking out something meaningful for someone they love
The sales
The carol singers
The overindulgence in comfort food
The reasons you should start Christmas shopping earlier rather than later are:
You can avoid the Christmas shopping rush
You get better deals
Avoid the shipping delays that are unpredictable during peak season
Avoid crowds (though this is debatable as the spirit of Christmas shopping is in the crowds!)
More time to enjoy the holidays with friends and holidays
Time to visit the early-early Christmas fair
And last but not the least, it is one task accomplished!
Christmas markets in Europe are a delightful way to combine a short break at an attractive locale with gift shopping. Wherever you go in the Christmas shopping season, you can be assured of a great festive atmosphere with delicious local delicacies and an irresistible spread of unique gift items.
In this blog, we bring to you five of the must visit Christmas markets in Europe. While it is a known fact that the most popular places to shop for the festive season are Austria, Hungary and Germany, we will introduce you to the not so popular markets where you can find unique and out of the box gifting ideas with the added benefit of smaller crowds. We hope you start shopping early and visit each of them while you tick off your loved ones on your gifting list!
Metz Christmas Market, Metz, France
Location: Place de la République, Avenue Robert Schuman, 57000 Metz, France
Dates: 18 November 2022 to 30 December 2022
Metz Christmas market in the Alsace-Lorraine a popular Christmas market in on the Place de la République. The chief attractions are the Christmas pyramid and an ice rink.
One can also find good stalls in Place Saint Louis, Place Saint-Jacques, Place d'Armes and Place de la Comédie. You can also find a whole Christmas village and a carousel, a gourmet market and a 60-metre Ferris wheel.
Krakow Christmas Market, Krakow, Poland
Location: Rynek Główny, Kraków, Poland
Dates: 25 November 2022 to 26 December 2022
The Christmas market in Krakow, Poland is the biggest in the country. It is held in the Rynek Główny that was built in the heart of the city in 13th century. The stalls are situated around St Mary's Basilica and the Cloth Hall.
A visit to little cellar bars clustered around the square for refreshment and a break from shopping is a magical experience. Jewellery, festive gingerbread treats and wooden decorations are among the most popular goods sold here.
Zurich Christmas Market, Zurich, Switzerland
Location: Zürcher Weihnachtsdorf, Sechseläutenplatz, Zürich, Switzerland
Dates: 24 November 2022 to 24 December 2022
Between late November and Christmas Eve, you can visit the Christmas market in the Swiss city of Zurich. It's held in a stunning setting by Lake Zurich and the opera house. As you can imagine, the twinkling lights reflected in the water is a magical sight.
A gigantic Christmas tree provides a focal point for about 120 stalls to cluster around. Local and handmade goods are a speciality of this market, so you're bound to find lots of unique gifts. As well as a few treats for yourself, of course.
Fira de Santa Llúcia, Barcelona, Spain
Location: Avenue de la Catedral, 08002 Barcelona, Spain
Dates: 25 November 2022 to 23 December 2022
Fira de Santa Llúcia has been held in Barcelona since 1786. There are numerous stalls lining Avenida de la Catedral between late November and 23rd December.
A huge range of goods can be found at Barcelona's historic Christmas market. These include more unusual items like Christmas musical instruments, traditional nativity scenes and figures or locally made handicrafts for the home in addition to clothing, jewellery and accessories.
Fiera di Santa Lucia, Bologna, Italy
Location: Strasse Maggiore, 40125 Bologna BO, Italy
Dates: 17 November 2022 to 26 December 2022
The Festival of Santa Lucia inspires the name of this Italian Christmas market in Bologna. Come mid-November each year, the street becomes filled with stalls peddling items that range from Italian delicacies to decorations, gifts and pieces echoing the traditions and religious aspect of the festive season.
If you'd love to create a nativity scene within your home, this is the place to pick up figures crafted from wood, plaster, terracotta and even papier-mache.
With so much on offer, what better excuse is there to visit one of the best cities in Italy.
This Shopping season, enjoy a holiday break while shopping for your loved ones!
At FX Currency London Ltd, we offer you precisely tailored exchange rates which stand tall in the competitive market. We also offer advice on how much foreign currency one needs to carry on a vacation depending on the destination. We are registered with HMRC and other regulatory bodies assuring our clients of being in safe hands.
How to Reach Us:
Address: 98 Fleet Street EC4Y 1DE
Fastest by public transport: 23 minutes
Nearest Bus Station: Ludgate Circus. Bus Routes: 168, 253, 27, 274, 29, 31, 88
Nearest Overground Train Station: Thameslink
Nearest Tube Station: Northern
Plan your Travel: https://tfl.gov.uk/